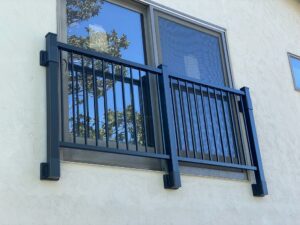 Balcony railings are an important part of safety but can be a property owner's chance to set their home or business apart. We proudly design, fabricate, and install quality balcony railings in homes and businesses all over the San Diego and the San Diego County.
You have the view, now make it safe with attractive wrought aluminum balcony railing from West Coast Railing. Discourage crime and feel secure without completely blocking out the sunshine or warm breezes. Our railing systems can be as simple or intricate as you like and made to fit a variety of balcony types.
Juliet Or Faux Balconies
Indoor Mezzanines
True & French Balconies
Curved Or Cantilevered Balconies
Secure, Sophisticated Balcony Rails
Already have barriers that could use a little help? Add height to block fencing to help protect children or pets who climb or jump while creating a space of beauty and tranquility. Wrought iron railing systems can be installed on high patios, balcony decks, or as decorative finishes for window ledges.
You don't have to feel limited when it comes to your home's exterior decor. We can custom-build your balcony railings in the size, style, and finish you want.