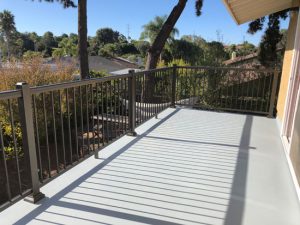 West Coast Railing San Diego is the industry leader in high quality, pre-engineered, residential aluminum railing systems. Our innovative, railing designs are strong, attractive, and easy to install. We understand your need for railing products that are versatile enough to handle virtually any project condition.
Our products offer you the very best selection of top rail choices, railing infill options, and lots of standard, powder coat colors.
Read More
Our team of knowledgeable and talented designers, project managers, and fabricators provide a wealth of experience that is unmatched in our industry. With our team working on your project, your railing order process will move seamlessly from design through fabrication and delivery.
We have our own in-house engineering team, allowing us to also provide complete engineering and CAD drawings for your specific project, which serve to simplify your installation process. We control each step of the design and manufacturing process, so you can count on consistent railing quality and reliable shipping lead times. Every aspect of your railing order, from design, through fabrication and completion, is done in our facility, without the use of any outsourced manufacturing vendors, giving us an even greater advantage in satisfying your expectations.